Hi Everyone
The Saturday of Easter Weekend usually marks the day our church fellowship have our Easter Outreach down at the Naenae Village Market, at the Naenae shops.
Last year we quickly ran out of supplies, so this year we met at Peck Choo's house to put together 1,000 Gospel packs. 500 of them consisted of an Easter tract from operration513.com, a note with details of our church Easter services, and a hot cross bun. The other 500 had a small bar of chocolate instead of the hot cross bun. A big team put these packs together on Good Friday morning, also giving us opportunity to pray for the people that receive them.
Saturday dawned fine, but with a cool start. We set our stand up in the usual place opposite the old Post Office. The market didn't officially open until 10:30, but as we were set up early, some of us took a bags full of hot cross bun packs and started distributing them around the shop centre. Most were gladly accepted. My greeting was along the lines of "Here's a hot cross bun for your morning tea. Included is a message about the true meaning of Easter. Do you know what Easter is all about?…". It worked a lot of the time. If nobody was willing to engage, I would just pray that the Gospel tracts would do the talking for me.
Here are a few of the conversations that stood out:
John: John was on his mobility scooter. I offered him a pack and asked if he knew what Easter was about. He said something to do with Jesus dying. He didn't know why. I mentioned that it was payment for his sin. I took John through the law to help him understand what Christ could save him from. He was very open, and thanked me for telling the truth and not watering down the importance of Easter. I pray that what I told John will cause a heart change!
Bob: There was big resistance from Bob. He laughed when I asked him what Easter was all about. He knew the truth, and he knew he would be in big trouble on judgement day after I took him through the law. He said it didn't concern him, as he has lived through 2 near death experiences, so nothing would phase him. I told him that 10 out of 10 people eventually die, and the fact that he is still alive and talking to me right now could be a sign that God is trying to get his attention. Unfortunately all my pleads fell on deaf ears, so I had to leave him in God's hands and walk away.
Raymond: He was very pleased to receive his hot cross bun! I asked him what he thought the cross on the bun could represent. He straight up said it was like the cross that Jesus died on. I asked him what that meant for him. He said 'not much'. So I explained that Christ's death was a substitute on his behalf. All the lying, stealing, blaspheming etc was storing up wrath the God is going to pour out on Raymond. But God sent His Son to the cross, and poured out His wrath on Him instead. I told Raymond he needed to accept this by faith, otherwise he was doomed. Raymond took all this on board, nodding through my explanation. I gave him a Good Person tract, and Raymond said he would read the Gospel of John at home.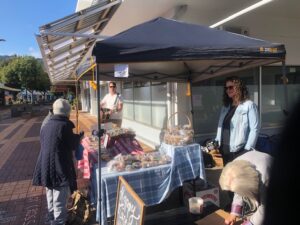 Peck Choo had a lot of conversations, including with a Chinese couple who said they were Christians back in China. She also spoke to a young gentleman who told her he needed to come back to church. He did come to our Easter Service on Sunday morning, and a number of us were able to catch up with him.
Di had a couple of very long and fruitful conversations, including with a lady who was the original coordinator of the Naenae markets. 
Pastor Jarryd sung worship songs with his guitar. These songs were  centered on Easter, and the cross.
Others were constantly engaging with the public, or handing out Gospel packs. It was an awesome day out, and it was a blessing to see the fellowship being obedient in engaging in the Great Commission!
Next outreach is the usual 3rd Saturday of the month, 17 April. This coincides with the Naenae Oranga Festival, so should be a great Gospel opportunity!
Blessings
Craig