Hi Everyone
Here's this month's Gone Fishin' Newsletter.
Every month a team from our fellowship at Calvary Wellington heads out to our regular fishing hole, the Naenae Market and Hillary Court shops. There we share the Gospel to those in our immediate community. 
Once a month I publish a simple newsletter that is distributed to the fellowship (or for anyone else who stumbles across this website), as a way of encouragement, and as a tool to equip us to be better evangelists.
Enjoy!
Gone Fishin' Monthly Newsletter – September 2021
"Lord, my heart is not haughty,
Nor my eyes lofty.
Neither do I concern myself with great matters,
Nor with things too profound for me.
Surely I have calmed and quieted my soul,
Like a weaned child with his mother;
Like a weaned child is my soul within me.
O Israel, hope in the Lord
From this time forth and forever." (Ps 131)
Hi Everyone
 I hope everyone is keeping safe and sane during these lockdown times!
I also hope you have found new and inventive ways to share the Gospel with people. Just because we can't see them face-to-face, it doesn't mean we can't witness to them!
I must admit, I love a good conspiracy theory!  However profound, I will always have a listen to the latest theory going around. That doesn't necessarily mean I will fall for it, though! Knowledge will be meaningless to me if it isn't tempered with common sense, and logic. Knowledge also doesn't give me license to reign superior over people.
 What is your initial reaction to the latest juicy gossip or conspiracy? Do you rub your hands with glee, eager to teach the world your new found knowledge?
 Our verses today teach of a grounding when it comes to the pursuit of worldly knowledge. The Psalmist teaches us what our priorities should be.
 We can learn about humility, health, and hope.
 Humility, over Haughtiness
"Lord, my heart is not haughty, nor my eyes lofty. Neither do I concern myself with great matters, nor with things too profound for me." (v1)
Firstly, the Psalmist understands to turn his focus away from the constant pursuit of knowledge, for knowledge sake.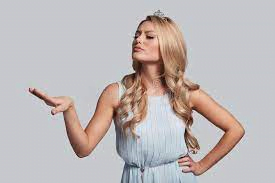 Sure, it's good to expand the mind and learn new things. But there comes a point where it does us no good to learn some things, as it leads to becoming prideful. And in our pride, we try to impress others with our new-found knowledge. Our haughtiness causes others to heap us with praise, because, after all, aren't we clever! However, some things we don't need to be concerned about, as they are too profound for our own good.
As Christians, we ought to drop our haughtiness, as we commune with the Omniscient One, who knits all things together for His purposes. His thoughts are not our thoughts, and His ways higher than ours (Is 58:8-9). We need to understand that there are things going on that are way beyond our comprehension and understanding. The profound things of this universe are in God's control, not ours.
Health, over Hysteria
Surely I have calmed and quieted my soul, like a weaned child with his mother; like a weaned child is my soul within me. (v2)
 Secondly, the Psalmist calms himself, and brings his body into submission.
If we are forever on the lookout to discover the next best thing, or constantly alert for the latest titbit of gossip, the next explosive conspiracy, then we do damage to our well-being. Our appetite for more will take over, and eventually becomes insatiable. We feel the need to express an opinion on every subject that crops up, because we believe everyone needs to benefit from our wisdom. In reality, we are never relaxed, because our mind and body have been taken over.
 As Christians, we ought to seize control over our actions, like a weaned child with its' mother. A weaned child has been bought under submission. He has stopped craving and striving for things that will no longer benefit him. He is calmed, and resolute in the knowledge that his mother has his best interests at heart. We are to bring all things under submission to Christ. It is in Him that we find true peace.
Hope, over Hubris
"O Israel, hope in the Lord from this time forth and forever." (v3)
 Lastly, the Psalmist implores us in who to trust.
When we focus our thinking on the ways of the world, we become like the world. Our decisions become based on how the world operates. Our trust is therefore in man-made systems. This exposes where our true faith lies, but can destroy us: "Do not love the world or the things of the world. If anyone loves the world, the love of the Father is not in him" (1 John 2:15).
 An unhealthy fascination with the things of the world is futile, because this world is temporal.
 As Christians, we are to be in the world, but not of the world (John 17:11-19). Our hope should be in God, and God alone. The affairs of this world – whether they be environmental, political, social, etc. – should not consume us to the point where become obsessed, transfixed, and totally distracted towards them.
 Shake off your unbelief! Make a decision this moment, to only "…hope in the Lord from this time forth and forever."   
We haven't been able to get out and about as a team for a couple of months now. The Naenae market is not operating in Level 2. This week we will be passing out the flyers for the Children's holiday programme, using them as a springboard to get the Gospel out!
I'll see you at my place at 10am for prayer before heading out!
 Blessings
 Craig
Witnessing Tip: Calm Down!
No one wants to listen to someone who rants and raves!
The Gospel is a serious message, the difference between eternal life and death.
Take some deep breaths.
Be calm and collected so that you can get the Gospel message across!