Hi Everyone
We were a bit more prepared this morning for our morning evangelism on Omegle. We were straight on for two and a half hours. It seems a long time, but the time goes quickly when you get into deep Gospel conversations.
I started with a conversation with two Brits, but they started giving sarcastic answers, and ended up bailing the conversation.
One boy from California agreed he would go to hell, but bailed before I could give him the good news 🙁
Then I ran into a string of cool conversations:
Rowan – from Ireland. He was a very personable and respectful young man. I went slowly with him, going through proving the existence of a creator, and checking to see if he lived up to His standards. He was very humble and honest, and answered sincerely. He knew he would be in big trouble on Judgement Day. I was able to share with Rowan how to find eternal life, and he was quiet. I think he may have been crying. I showed him how to find and download a Bible app, and encouraged him to read it daily. Please pray for Rowan!
Roy from the US was another great chat. He told me suffered from ADHD, and had problems focusing. He was doing just fine. He agreed that if there was a God that he would be in great trouble. I went to great lengths to show him how mercy can be found through Christ, and he showed Godly sorrow. I also showed him how Christ paid for his hell punishment, and complete faith in Him is the only way to eternal life. Please keep him in your prayers too!
I also spoke with an Indian man, from the Hindu faith. I think by the end of our conversation, he was convinced his faith was all in vain. He admitted I was right in telling him that justice needs to be served, either by him or someone else. He thanked me for the discussion, and I sent him the link to the Bible app.
After lunch we had a Bible study, this time on 1 Corinthians 2. It was a great time of diving into God's word, and gleaning all he has to say to us.
After lunch went back down to Surfers. Thankfully it was a bit cooler today, and it was quite a pleasant temperature to do our witnessing.
Nathan – I chatted to him, and it turned out he was a 'Red Frog' during his downtime. Red Frogs look after the Schoolies, making sure they are all OK, that they get back to their rooms safely after drinking or drugging too much. They also provide things like condoms for them. They are supposed to be a Christian organisation, but there is not much Christian about them. When I asked him where he will go when he dies, he said he was a Christian, and a Red Frog. I asked him why he wasn't out sharing the Gospel during downtime. He said it wasn't his thing, which was sad. There were all these thousands of kids needing salvation, and he wasn't prepared to tell them the good news. I guess I was expecting too much from him.
Connor and Angus – nice guys. I took them both through the law and Gospel. They answered nicely, but I noticed them smirking to each other, so I think they were pulling my leg. I had to leave them in God's hands.
Delta, Pedro & James – these kids were a joy to witness to, answering respectively to each question. When the time for questions had finished, they said thank you, but I sensed no heart change. I pray I am wrong.
Jim – Greek Orthodox – Jim was an interesting character. He started by keep saying he's OK because he went to church. When I asked him what he learnt in church, he said not much, it was very boring as they go on for 3 hours! So I asked him what the gospel was, and he had no clue. That was my suspicion, as a lot of orthodox churches are all tradition with no substance. So I took Jim through the law and Gospel, and it was like a light bulb was going off in his eyes. He thanked me so much for taking the time and caring. On the way back to the car later, I passed Jim. He grabbed my hand and said that ever since our chat, a peace has come over him. I asked him why he should be let into heaven, and he said because Jesus took 100% of his hell punishment for him. It was confirmation for me that what I was sharing was hitting home!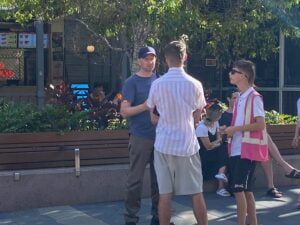 We came back to the apartment with lots of stories to tell, and had dinner – tonight it was pizza takeaway. Yum!
Then we went straight back to the streets for evening witnessing.
My first chat was with an English young man. He believed in justice, but not for him. I guess he found the pan too hot when confronted!
Dean – He said he was a Christian, but didn't think it was his duty to tell all his friends about Christ, which was sad. He walked away in a huff. Hmmm…
Declan – this was turning out to be a great chat. I made it through the law and Gospel, but then his mates grabbed him and dragged him away. I pray a seed was sown in him!
When we were at church last Sunday, a woman named Sunni wanted to learn about how to witness. The team was training her one-on-one. She joined me for the next two chats.
Samuel – this man was very humble when I explained how we know that there was a God, what He requires of us, and where he will go if he rejects him. I could see tears welling up inside of him. When I told him the good news of the Gospel, his lower lip was trembling. Samuel agreed that he needed a saviour to take his hell punishment. I told Samuel that he needed to dust off his old Bible at home, and to read the Gospel of John. He was very thankful, and I prayed for him afterwards. I told him to avoid the other so-called 'Christian' groups doing healings and signs and wonders show, as I didn't want them to steal away the seed that was sown in his heart. Please pray for Samuel!
Harry and Tom – this also was a great chat! Harry was the most focused, so I concentrated the chat on him. He just kept nodding and agreeing with everything I was saying. He answered all the checking questions correctly, and showed a contrite heart with regards to his sin. I gave him the glorious Gospel, and he was most appreciative of the conversation, saying that it was what he needed to hear this week. Praise God for the last two chats!
Sunni & I stopped to pray for Samuel, Harry & Tom. She was flabbergasted at how these conversations went, but I had to tell her that not every chat ended like that!
So I headed back that night kicking my heels. When we were swapping stories later, I found that Kane had also spoken to Harry, so it looks like the Lord is doing a work in his heart!
So it was another awesome day, and we thank God for this awesome opportunity of sharing the best news these kids can hear!
Blessings
Craig.