Hi Everyone
Here's this month's Gone Fishin' Newsletter.
Every month a team from our fellowship at Calvary Wellington heads out to our regular fishing holes – the Naenae Market and Hillary Court shops, or the Hutt Riverbank Fruit and Vege Market. There we share the Gospel to those in our immediate community. 
Once a month I publish a simple newsletter that is distributed to the fellowship (or for anyone else who stumbles across this website), as a way of encouragement, and as a tool to equip us to be better evangelists.
You can read the last Field Report from 8/4/23 here.
Enjoy!
Gone Fishin' Monthly Newsletter – May 2023
"Therefore He is also able to save to the uttermost those who come to God through Him, since He always lives to make intercession for them." (Heb 7:25)
 Hi Everyone
 I pray your month has gone well, and that your joy is complete in fulfilling the Great Commission!
 Last time out was our Easter Outreach at the Hutt Riverbank Market. You can read the Field Report here.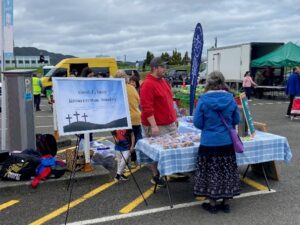 ————
 Last month we talked about how anyone – regardless of our perceived seriousness of the sins committed – can have access to eternal life, through faith in Christ. You can recap here.
But being a Christian doesn't make us bullet-proof. Sometimes we can get a bit naïve, thinking that now all our sins have been washed away, life will be perfect from now on. Nothing could be further from the truth! Satan wants nothing better than for us to sit on our Christian laurels and pretend all is well. Inevitably, we will slip up. The Apostle Paul himself struggled in the grip of sin:
 "For what I am doing, I do not understand. For what I will to do, that I do not practice; but what I hate, that I do. If, then, I do what I will not to do, I agree with the law that it is good. But now, it is no longer I who do it, but sin that dwells in me." (Rom 7:15-17).
One of the checking questions I ask people I am witnessing to is "If you believe by faith that Jesus took your hell punishment for you, then you did 5 sins, and died – would you go to heaven or hell?".  It is surprising how many people answer "Hell". This is because they don't understand the level to which Christ saves. Today we will study our main verse, and learn of the completeness in His saving, the condition in His saving, and the caring in His saving.
The Completeness in His saving
"…He is also able to save to the uttermost…"
How many times did Jesus need to die on the cross for you? Exactly – one! That would mean a tremendous saving power would be needed to save every sin of every person who comes to God! And that's exactly what happened…God saw that the only payment acceptable would be from someone who was perfect; someone who didn't have a hell punishment themselves to pay. So, He called on His perfect Son to be the sacrifice. Who better to save to the uttermost? Who better to wipe the slate clean for you and me? A clean slate means all sin; past, present, and future, are atoned for. He only died and rose once, therefore once must be enough to satisfy God's justice towards us.
 How comforting it is to know this: We will still sin, but for the believer Christ has already bled and died for that sin. That should cause us to be thankful, and strive to not add to the cup of wrath Christ drank for us!
The Condition in His saving
"…those who come to God through Him…"
How many people have offered to die for your sins? Exactly – one! All the other false religions are works-based. You just need to try harder. If your good deeds outweigh your bad, the scales should be tipped in your favour. I say 'should be', because I've never yet met an unbeliever that is 100% sure they will make it to heaven. You either need to be 100% innocent of breaking God's laws, or have someone else take the punishment for you. And since the former is impossible, the latter is the only way. Christ is the only way to God. No other god offers someone to take the punishment for them.
 How comforting it is to know this: That we don't have to work for our salvation. God has given us access to Him via faith alone in Christ!
The Caring in His saving
"…since He always lives to make intercession for them."
How many people promise to always intercede for you? Exactly – one! Not only did Christ blot out your sins, but He promises to pray to the Father for you on your behalf. This is so reassuring for the believer! He would be perfectly within His right to just save us and leave us to flounder our way through this life, until He returns for us. But He loved us enough to not only save us from His Father's wrath, but also to help us with our struggles with sin, and persecution in this life. He helps us to grow in holiness; to be more like Him.
How comforting it is to know this: That when we fail and fall into sin, Christ is there to make intercession on our behalf!
May these words bring comfort and reassurance to us as we grow in our Christian walk. May they also spur us on to share the Good News with others; that Christ saves to the uttermost all who come through Him, and that He will also intercede for us until He returns!
I'll see you at my place at 10:00 Saturday for prayer, before heading down to the Naenae Shops!
 Blessings,
Craig.
Witnessing Tip: Be yourself!
 We all have our Christian heroes that we love to emulate.
But the best person you could be to others is…yourself!
Be genuine, and the listener will thank you for it!