Hi Everyone
Here's this month's Gone Fishin' Newsletter.
Every month a team from our fellowship at Calvary Wellington heads out to our regular fishing hole, the Naenae Market and Hillary Court shops. There we share the Gospel to those in our immediate community. 
Once a month I publish a simple newsletter that is distributed to the fellowship (or for anyone else who stumbles across this website), as a way of encouragement, and as a tool to equip us to be better evangelists.
Enjoy!
Gone Fishin' Monthly Newsletter – March 2022
"Do not put your trust in princes, nor in a son of man, in whom there is no help. His spirit departs, he returns to his earth; in that very day his plans perish. Happy is he who has the God of Jacob for his help, whose hope is in the Lord his God." (Ps 146:3-5).
Hi Everyone
 I hope everyone is staying safe and well with the latest outbreak. I know there are quite a few of our fellowship with the virus, and pray that you will use this as an opportunity to draw near to our God.
Humankind is very fickle when faced with who we put our trust in.  
Who do you turn to when life is going sideways? Who is the go-to when you need advice, security, or assurance?
Our verse today shows us that we should never place our ultimate faith in Institutional Governments, nor Idolised Guardians, but rather the Immortal God.
Institutional Government
"Do not put your trust in princes…" (v3)
Prime Ministers, Presidents, and Princes: they all have power. And nations can, and should be able to trust their leaders to protect them from harm. Although there is no such thing as a pure administration, most can be relied on to carry out their civic duties in an orderly, constitutional manner.
However, Governments are made of individuals. Most would become politicians with grand intentions of changes they wish to make for good. But being normal individuals like you and me, they can be very easily swayed by public opinion. If they listen to too much wrong advice, the waves of compromise will eventually erode away their integrity. A group of influential politicians with no integrity is not one to trust to lead the people.
We should not be placing our faith in an ungodly Institutional Government for our security. Governments come and go, and the next one can be just as bad, if not worse than the previous. We need someone who never changes.
Idolised Guardians
"…nor in a son of man…" (v3)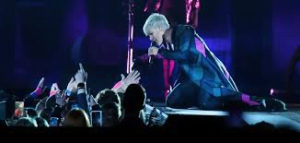 Everyone likes a hero: someone to look up to, and model our lives on. Our heroes come in all shapes and sizes, from sports stars, musicians, to charismatic leaders. On the outside, these people have traits we all aspire to – are charismatic, morally upright, and have a never-give-up attitude.
However, heroes are normal people too. They have their character flaws just like everyone else. You only need to read the papers to find out how fallible some are. Lots have major moral failings that took them from the pedestal to the pit, which leaves us flabbergasted and distraught, searching for our next mentor and saviour. In reality, they are unfit for the role they are idolised for.
We should not be placing our faith in Idolised Guardians for our role models. On the surface they seem so upright and conscientious, but on the inside are flawed, just like us. We need someone who is morally perfect.
Another thing to note about governments and guardians: when their time is over, their spirit departs (v4). Just like us, they succumb to the ultimate statistic: 10 out of 10 people die. All their plans for good come to nothing for them. What is the point of placing our faith in someone mortal, like us? Shouldn't we be looking towards someone immortal, which can be relied upon?
Immortal God
"Happy is he who has the God of Jacob for his help, whose hope is in the Lord his God."
There is only one solution: someone who is perfect, and never changes. Our God can always be relied on to help us in our time of need. He exists outside of time and space, so is not dependent on circumstances, like us. He was there in the beginning, and will be there in the end (Rev 22:13). He can be relied on, for He alone is wise (Rom 16:27).
His mercies and compassion are new every morning, and His faithfulness is great (Lamentations 3:22). He cannot lie (Titus 1:2), and His Son is the way, the truth, and the life – no one obtains access to God via any other means (John 14:7). Those who place their faith in Him get to spend eternity with Him (John 14:1-3).
There is no perfect standard of goodness, moral perfection, and eternal faithfulness outside of God. We may obtain some sort of success or fulfilment in this life through believing in governments and guardians; but it is all in vain when we pass into eternity. Our faith in God is via His Son, who was crushed with our sin, and grants us eternal life.
 This is what we proclaim, called the Good News!
I'll see you at my place this Saturday at 10am for prayer before heading down to the Naenae shops to tell everyone the Good News!!
Blessings,
Craig.
Witnessing Tip: Don't just think about it, do it!
Sometimes we overthink too much about whether to witness to someone or not.
By the time we make a decision, the opportunity is gone.
Swallow hard. Just do it!