Tuesday dawned a beautiful day again in Christchurch. We met at the bus stops at Northlands shopping centre for prayer. Today there were four of us today, with Sophie joining Andy, Glen and myself.
After prayer we paired off and manned the bus stops either side of Main Nth Road. I was able to give away lots of tracts. I knew it was after 9 o'clock, as the Gold Card holders (over 65's) were pouring off the buses to go to the mall!
Levi: This older gentleman stated he was a Christian, but he couldn't tell me how to get to heaven. He said a group of people were building a church on some vacant land in Belfast, just north of Christchurch. I asked him if he had kept the 10 commandments, and he said "yes, of course!". But a quick going though them told a different story. I told him that by his own admission he was not a good person, but he kept justifying his actions by saying God is forgiving. It was obvious to me that he didn't want to talk anymore, so I implored him to read the first three chapters of Romans before he went to sleep tonight. O Lord, please remove the blinkers from Levi's eyes!
No one else was willing to engage in conversation, apart from a young lady who just wanted to argue that it is impossible to prove God exists. She wasn't being reasonable, and willing to listen to my reasoning. She needed to catch the bus, so I pray the tract will speak to her heart.
Sophie and Andy were relentless in conversation after conversation, but down our end, the bus crowds had thinned out, so Glen suggested we walk down to the Papanui Rd shops to see if we could engage anyone. On our way back, Glen fell into conversation with an Eastern European gentleman. I know from experience that they can come across as rude and obnoxious, but really they are passionate people who express themselves differently than us conservative antipodeans! I could see Glen was enjoying the banter, and countering his statements. While watching, I noticed a couple walking towards me…
Mike & Tracy: I backed away from Glen's conversation, and offered them million dollar tracts. They both thought believed in God, and thought they were good enough to get to heaven, so I took them through the law. It was obvious to both them and myself that they were headed to hell. It concerned them, so I told them the glorious good news how Christ paid for their punishment. It took a few checking questions for them to understand that there was nothing they could do in and of themselves to save themselves from a fiery judgement. When they got it, it was like a lightbulb going off. It was a very encouraging conversation!
The pickings were slim, so Glen suggested we all head to the New Brighton Pier.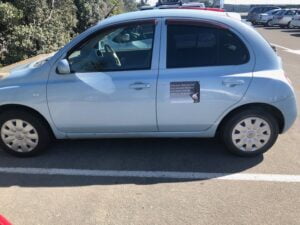 When I arrived at the pier, Glen and Andy were already knee-deep in conversations, so Sophie and I walked down to the end of the pier to engage with some of the fishermen and women catching all sorts of things, from crabs to mullett.
Lots of them took tracts off me. Sophie fell into a conversation with one of the men, so I approached one of the men opposite her, so we wouldn't be separated too much. He had just set up his line…
David: He was a very skeptical man, questioning every proof I gave him how he knows that God exists. What is it with Cantabrians these days? Had they become so conservative that they are unwilling to accommodate another point of view? This has been my experience the last couple of days, anyway. David was unmovable, and becoming irritated at my questions, so we parted with a handshake.
Sophie was buzzing after her conversation – praise God, the gentleman was very open to her!
I left the team at Brighton to have some time out in the afternoon with the hosts I was staying with. But I was truly grateful to be out sharing the Gospel with other passionate evangelists!
I was invited to the weekly prayer meeting at Andy's house tonight. We prayed for the whole NZ Outreach Mission, and for all the people we have, and will meet to share the Gospel with. It was an awesome time of fellowship, worship, and prayer.
I'm emotionally exhausted, but really looking forward to the next 3 days in and around the city centre (Cathedral Sq, Cashel Mall)!
Blessings
Craig