'Tell Me' Conference, Christchurch, 29 August 2020
Hi Everyone
I had the privilege of attending the 2020 Tell Me Conference on the 29th August. This is a yearly conference put on by the Operation513 evangelism ministry.
I watched videos of previous years' conference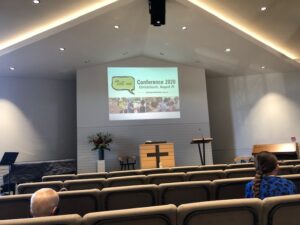 s online, but being the first one I have attended in person, I was a wee bit nervous. However, I was warmly greeted by organisers Glen & Andy, who thanked me for making the effort to come down. 
The conference opened with worship, which centred our hearts for the day.
Andy then opened the conference with prayer, explained a little about Operation513, then  introduced the first speaker, Roger Spicer.
Roger is retired, but regularly spends his time on the streets of Christchurch with his 'Good Person Test' chart. Roger's topic was "If I could do it again. Sage advice for a younger me".
He spoke of the 10 lies that try to prevent us from evangelising. These are some of the things we have pragmatically believed – both personally as evangelists, and collectively as local body – with regards to evangelism in general. He also spoke of continually ploughing and watering without planting the Gospel seed just produces mud. Sage advice indeed!
After morning tea, the speaker was Matthew Johnston, Pastor of Riverbend Bible Church in the Hawkes Bay. A few years ago I attended the 'Impact' Conference at Riverbend, so was familiar with him. His topic was "The doctrine of the local church; the responsibility of the evangelist to be under the authority of the local church, as well as the responsibility of local churches to support local evangelists". Wow, a bit of a mouthful, but there you go!
The message he gave was inspiring, to say the least! He explained through scripture that the church is an outward expression of God's love for His Son. God chose us before time began, and gave us as a gift to His Son. Then the Son offers us back to His Father. We are messengers of redemption through the church, and for us to go it alone is selfish. It was extremely edifying.
We had lunch, and then afterwards watched a pre-recorded video Q & A session between Glen and Andy with apologist Dr James White. He offered us insight into how to witness to Muslims in light of the ChCh terror attack last year, as well as some truths of the Koran & Hadiths.
We then jumped into cars, and headed to Cathedral Square for a time of Gospel outreach. Matthew preached open-air. He spoke of the tragedy of the terrorist attack, and how God offers eternal life to all, through faith in Christ.
We split up into teams, the objective being so that the less confident people can link up with the more experienced people. By the time I got all my tracts out, everyone had paired up and disbursed. I didn't mind, as I was used to going on my own anyway.
I had lots of conversations with people in the Square. Standing in front of the half-destroyed Cathedral created lots of segues to the Gospel. Here are a few conversations that stand out:
Simon walked past, and I offered him a million-dollar tract and asked him what happens after we die. He told me he had murderous thoughts (yikes! I discreetly took a step backwards as I continued the conversation!). There were some people in his past that had hurt him, and he wanted to physically murder them. He knew this was wrong, and needed to get rid of the thoughts. He said he needed to talk to the Elders of his church. I asked him if he knew that God would judge him just for having those thoughts, because hatred is murder of the heart. He kept saying that he would never carry it out, so he was OK. I warned him of the eternal consequences he would face if he died with those unrepentant thoughts. Then I asked him if he knew what God did so that he wouldn't be sent to hell for having them. He said it was something to do with Jesus dying. I explained that because Jesus paid our hell punishment, that what he needed to do was transfer the trust in himself, to Christ. He seemed to understand, but he kept backtracking to the murderous thoughts. I decided that it probably wasn't the best to antagonize him, for fear of turning up on his hit list! I asked him to think about what Jesus did for him, and place his faith in him before it was too late. He shook my hand and thanked me for reminding him he needed to do something about his bad thoughts. Please remember Simon in your prayers.
George and James were skateboarding outside the old Police kiosk in the Square. I offered them million dollar tracts. They said that someone else had given them stuff and talked to them as well (probably another team member). They were probably senior high school age. I asked George if he believed there was a God. He said maybe, but would stick to evolution, as there was more proof. I asked him if he knew there was a builder of the Cathedral. He said yes. What about the mural on the wall, was there a painter? He said yes, there was. I explained that buildings are proof of a builder, paintings are proof of a painter, and creation is proof of a creator. He seemed taken aback by this logic. I pointed back to the half-destroyed cathedral and said that explosions and earthquakes only produced chaos, not intelligent design. I asked him that if there was a God, would he be good enough to get to heaven. He said he didn't know, so I took him through the law. James was listening from a distance. After admitting to lying, stealing, blasphemy and adultery, I gave George the bad news. I said that the probable reason he didn't want to believe in God was that he would have to give an account to Him on judgement day. I told him to try that in a court of law – just because he didn't believe in the judge didn't mean he wouldn't get tried for his crimes. He couldn't disagree with that, but kept wanting to go back to evolution – it seemed ingrained in him. He wanted to go back to skating, so I shook both their hands and gave them a Good Person tract. I asked them to think about what we talked about. They said they would, and I pray they do.
I walked to Cashel Mall to check in on how the others were doing. There were about 4 teams all set up with the Good Person Test clipboards all engrossed in conversations, so I left them to it.
Sohail stopped beside me on a fancy e-scooter to go into the barber shop. The scooter looked like it was made with a Mecano set – a chunky skeletal version. He said he imports them from China and re-sells them. They have 2 x 3.5kw batteries that give it a top speed of 110 kmh! I 'printed' out a Movie Card from my phone. The card has a QR code that when scanned sends them to a Living Waters movie channel. He reacted like everyone else – astonished – so I showed him how it worked. He looked at the card, and noticed the movie 'Noah' on it. He said that he really wanted to watch this, as Noah is an important figure in Islam. I told him that the movie was from a Christian perspective, but it didn't deter his enthusiasm to watch it. He said he was Palestinian, and that it was sad regarding the Israeli/Palestinian tensions, as everyone really just wanted peace. He went on to say that everything was fine up until the 1949 declaration. Not knowing too much about middle-East politics, I didn't want to argue my way down a rabbit trail, nor intimidate him. He had an appointment at the hairdressers and had to go anyway, so I asked him to not forget to watch the videos. They are very evangelistic, so I pray the Lord opens his heart through them!
When I had finished, I turned around to find that everyone else had left Cashel Mall. I walked back to the Square, all the while handing out million dollar tracts and movie tracts to all who would take them. The last team was finishing up their conversation with a heckler, so I said my goodbyes and walked over to a meeting point where my friend picked me up.
It really was an awesome day of fellowship, teaching, and public ministry. I am glad I made the effort to come down, and will definitely put this on my calendar as an annual pilgrimage!
My sincerest thanks to Andy, Glen, and the team for putting a great conference!
Blessings
Craig.