Hi Everyone
Well, we prayed the forecast 'Weather Bomb' would hold off for the morning. The outlook did not look good, with severe gale winds and heavy rain due to close in on us!
Present today were Mike & Di, Maree, Frances, June & Pastor Jarryd. Peck met us down at the shops.
I opened with Ps 19:7-14 (NKJV):
"The law of the Lord is perfect, converting the soul;
The testimony of the Lord is sure, making wise the simple;
The statutes of the Lord are right, rejoicing the heart;
The commandment of the Lord is pure, enlightening the eyes;
The fear of the Lord is clean, enduring forever;
The judgments of the Lord are true and righteous altogether.
More to be desired are they than gold,
Yea, than much fine gold;
Sweeter also than honey and the honeycomb.
Moreover by them Your servant is warned,
And in keeping them there is great reward.
Who can understand his errors?
Cleanse me from secret faults.
Keep back Your servant also from presumptuous sins;
Let them not have dominion over me.
Then I shall be blameless,
And I shall be innocent of great transgression.
Let the words of my mouth and the meditation of my heart
Be acceptable in Your sight,
O Lord, my strength and my Redeemer."
We spoke of how it doesn't matter how eloquence, or lack thereof, does not guarantee a successful witnessing encounter, and how it is the Lord's work via the law that makes the difference – it is nothing we do.
Maree also pointed out how verse 1 of the same chapter sets the scene for us:
"The heavens declare the glory of God;
And the firmament shows His handiwork."
That is the starting point we need as evangelists – that God is sovereign, and everything else falls into line around this. We don't need any other proof that there is a God, as creation screams of a Creator.
We prayed that God would point us to the people we needed to talk to, and that we would be open and obedient, and not waste an opportunity to share the Gospel with them.
Just as we were leaving, the heavens opened, but thankfully for a short period! It was like this all morning, strong winds, sunshine, then heavy showers!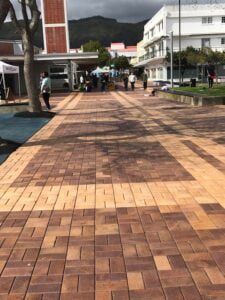 Down at Hilary Court we split up. I could see that Peck was already deep in conversation with someone. Later she said that she spent about 45 minutes with him, and that he was open to what she was sharing.
I started handing out tracts, trying to draw people into conversation. Not many took the bait, but a few did:
At the bus stop, I met Michael. He was very skeptical at taking a tract. He wanted to know what it was all about. I explained that it was a Gospel tract. He said 'Phew, that's OK, then. I am a Christian too". I guess he must have thought I was a Mormon or JW. It turned out he went to a local church. I asked him if he shared his faith. He said he tries, but doesn't do it very good. I handed him a bunch of resources, and pointed him to the Living Waters website to get a good handle on effective witnessing. He thanked me for helping him.
 I passed Chris, who was campaigning for the Green Party. I offered him a million dollar tract, he gave me a Greens tract in return. I asked him what happens after we die. He said that he has his own views. He said he was more worried about what was going to happen before he died. I tried to explain that this world is temporary, and he only had a finite time to sort out his eternity, as he didn't know  when he was going to die. He had to give an account of what he had done in his life. I knew his answer was going to be political, and I was right – he pointed to his efforts in trying to save the environment. He said he had a lot of people to talk to, so I pleaded with him to read the tract I gave him. Later on, I saw Mike and Di talking to him. They couldn't make any headway with him, either.
I noticed Pastor Jarryd talking with a couple of ladies. I recognised one of them as Sam, a lady I had already spoken to another day. At the time, I believed Sam was into some sort of new age, occult, or witchcraft. Jarryd later said he got that impression as well. They told Jarryd they might come to church.
In front of the library, I met Brian. He was probably senior high school age. He took a million dollar tract, and I took him through the law. He admitted to lying, stealing, blasphemy and adultery. He said he would probably be sent to hell. I gave Brian the beautiful Gospel, telling of how God can commute his hell sentence if he turned from his sin and placed his faith in Christ. He thought about it for a while, then told me the saddest thing an evangelist can hear – that although he knew he would be judged, he didn't care if he was going to hell. I told him of the horrors of hell, and pleaded with him to consider what the consequences would be. He said 'Nah', and walked away. I stood there frozen, my heart crushed. The thought of someone hearing the best news ever and rejecting it, was beyond belief. As I moved on, I prayed for Brian, that God would not leave him alone, that he would reconsider his foolish decision, and turn from his ways.
A couple of school boys walked past bouncing a basketball between them. One was interested in the tract, but the other was trying to coerce him away. Before he could, he admitted to lying and stealing. He took off, but he agreed to read the tract.
A couple sitting at the table outside the cafe were having a coffee and doing a crossword. I left $1m tracts in the table in front of them. The woman asked very robotically "What's that?" I explained that it's a million dollars, with the million dollar question on the back, what happens after we die. She said very colourfully how I could take the tracts and…well, I won't finish that sentence.
I did manage to give out many tracts, but that was the sum of all my conversations. 
Maree told me of a wonderful long conversation she had with a Nepalese couple. Praise God they were very open to the Gospel.
I thank God that He is still allowing us to do this, as times are changing for the worse. I pray that God will draw those people we encountered today to Himself.
Blessings
Craig.