Hi Everyone
Here's this month's Gone Fishin' Newsletter.
Enjoy!
Gone Fishin' Monthly Newsletter – August 2020
"Out of the depths I have cried to You, O LORD; Lord, hear my voice! Let Your ears be attentive to the voice of my supplications. If You, LORD, should mark iniquities, O Lord, who could stand? But there is forgiveness with You, that You may be feared. I wait for the LORD, my soul waits, and in His word I do hope. My soul waits for the Lord more than those who watch for the morning — yes, more than those who watch for the morning. O Israel, hope in the LORD; for with the LORD there is mercy, and with Him is abundant redemption. And He shall redeem Israel from all his iniquities." Psalm 130:1-8
Hi Everyone
We had a great time last month. The weather was quite mild, which meant a few more people than normal were out and about around the shops. The market vendors are getting used to seeing us around, which is great!
What a great feeling to know that God has never forgotten us! When you have been a Christian for a long time, you can sometimes take for granted the requirement for repentance. I know from personal experience how complacent we can become; "Oh, you mean repentance? That's for people who haven't become Christians yet."
Yet the Psalms alone are full of pleas of repentance towards God. Psalm 130 is one of these.
This is believed to be penned by David during a time when he was pursued and persecuted by King Saul. It reminds us that although our eternity is secure, we still have to dwell in these temporal shells that constantly fight to destroy us.
The Plea Of Repentance (v 1-4)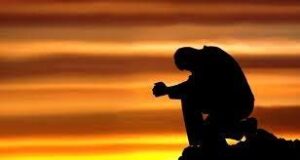 We all know that David was a 'man after God's own heart' (1 Sam 13:14). He felt the physical and spiritual separation from harming his heavenly Father's heart. We are not told any detail of the wrong he has committed, but his first request was for forgiveness. This is a good example for us to follow; even though we want to be rescued from our enemies, we first need to ask for forgiveness.
David desired absolution for his wrongs, and have his relationship restored. He knew that he was still loved, but restoration could only come from God Himself. If God counted all his sins against him and was not prepared to forgive, then there was no hope for him.
 To feel no conviction from sin means we have numbed our conscience to it. That's like taking the batteries out of a smoke detector when we get tired of the noise it makes.
If we ignore our sin, then why should we expect God to listen to our prayers?
 The Patience For Rescue (v 5-6)
 Having poured out his heart to God,
David waited. He waited like those waiting for the morning. Even more so, because he mentioned it twice in the verse.
The night time is a dark period (pun intended). But it is also dark emotionally and spiritually. Those nights when you couldn't sleep are when those melancholic thoughts come.
 But David waits in hope, because he was waiting for God to respond. Since his hope of rescue was in God alone, he had no reason to give room to doubt, or fear the worst. Whatever form his rescue would take in the morning, God would be working it for his good.
 Waiting for response to prayer can be so frustrating. A million fears can go through our mind: is God listening? Did I miss His answer? If the answer is 'wait', how long do I have to wait?
But we need not fear. Once we know God is in control, we can rest in the knowledge that things will work out for good, according to His will.
 The Praise For Redemption (v 7-8)
 Even though David did not know if the answer to his prayer would be in his favour, he began pronouncing God's mercy. He told everyone that hope is found in the Lord, and the Lord only. Not only can the Lord redeem, He will redeem abundantly.
 Once David had cast his petition at the feet of the Lord, he could get back to what he was created to do – worship his Maker. There was no reason to doubt anymore; no reason to fear; no reason for sleepless nights wondering if circumstances will work out for him.
God deserves our praise regardless of
our circumstances; regardless of His reply to our prayer; and regardless of whether we will like His answer or not.
This is because no matter what the outcome, He has redeemed us – He has redeemed us from the curse of sin; He has redeemed us from His wrath through his Son; and He has redeemed us from the clutches of hell! Praise God!
What a glorious thing to know that God is waiting for us to come to Him:
He waits for us to come in repentance.
He comforts us through the night while we wait for rescue.
And He gives us cause to worship Him in the knowledge that He has promised to abundantly redeem us.
 Sadly, this is what the sinner misses out on, as:
A seared conscience does not want to repent.
No repentance means no hope of rescue.
And no hope of rescue means no redemption from God's wrath.
If this breaks your heart, then let this drive you to share the Good News!
Good Deeds Go Un-noticed
 A couple of Fridays ago I decided that since I had the day off, it would be nice to spend an hour or two witnessing down at the Naenae shops. I'm glad I did, as I had lots of Gospel conversations! You can read them later on here.
A trend that I noticed was that I was bumping into a lot of people with a Mormon background.
I constantly challenge these people to not rely on their good works and deeds to get them to heaven. I implore them to instead place their faith in Christ. I said that if they don't, on Judgement Day God will look at their works and be totally unimpressed by them.
These people have been hardened to the Gospel. So, why the sudden appearance of them?
 Well, when I went back again the next day, I noticed a shop next to the laundromat that had opened up, that seemed to house a lot of second-hand goods. Coming out was the same lady I had witnessed to the day before. Behind her was a middle-aged Pacific Island gentleman. I offered him a Gospel tract, and asked him if he could answer the question "what happens after we die?"
He smiled and said "I will be going to heaven"
I asked "Why?"
He wanted to know why I was asking, and I told him I was a Christian, and was sharing the Good News.
He said he was a Mormon Minister. They used the shop to house goods to give away to the under-privileged.
I said "that's very nice of you. So, do you think that will get you to heaven?"
He smiled as he was backing away to his car. He waved to me and turned around. I guess he didn't want to be challenged by the truth.
 Keep an eye out for these people, as they are deceived! They need to hear the truth of the Gospel!
I'll see you at my place this Saturday at 10am for prayer before heading out once again.
 Blessings,
 Craig.
Witnessing Tip: Gospel Tracts Work!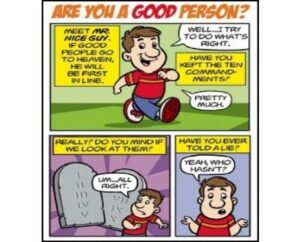 If you find it hard to start a Gospel conversation with a stranger, try using a Gospel tract.
They make great icebreakers. You can say something like;
"Did you get one of these? It's a Gospel tract. What do you think happens after we die?"
It can start a Gospel conversation straight up, and they will have something to reference after your conversation.
Try them!!